Building Project
Transition Information
Transition Information
Over the next several months we will be in the midst of our building transition! Below are the most important things for our members to keep in mind as we begin to live into the vision that God had set out for us.
Changes To Keep In Mind:
The Quiet Room has moved to room 202
Rooms 213 & 214 are now Early Childhood space
Children's Ministries (Birth - Grade 5) meet on the 2nd floor (watch video below)
S.W.A.T. (Student Ministries, Grade 6-12) meet in the FLC classrooms (watch video below)
Second emergency egress door installed in FLC
Lobby (nathex) construction wall is up

Elevator & stairwell by elevator will only access 1st (FLC) & 2nd (Childrens/Choir) floor (watch video below)
Parking & entrances for those with mobility concerns have changed (see details below)

Lounge powder room now only Sanctuary floor accessible bathroom

New accessible restrooms being framed in former Lounge area
expected completion September

Memorial garden West deck installed to protect sacred ground throughout construction
Demolition is complete

See the current progress with out construction cams 24/7
Parking Monday-Friday: please only use Central Ave. lot, construction equipment will be in use in Valleyview lot

Helical Piers screwed into bedrock & concrete footers poured & cured
Former Wesley Property in progress to become new parking lot

Around Labor Day: gravel down
Around Thanksgiving: initial layer of asphalt paved on south lot

The new "Deep End" continues to be dug out and concrete poured
Watch live, 24/7 at: epworth.com/cams
3D Perspective of New Building


Site Map of New Building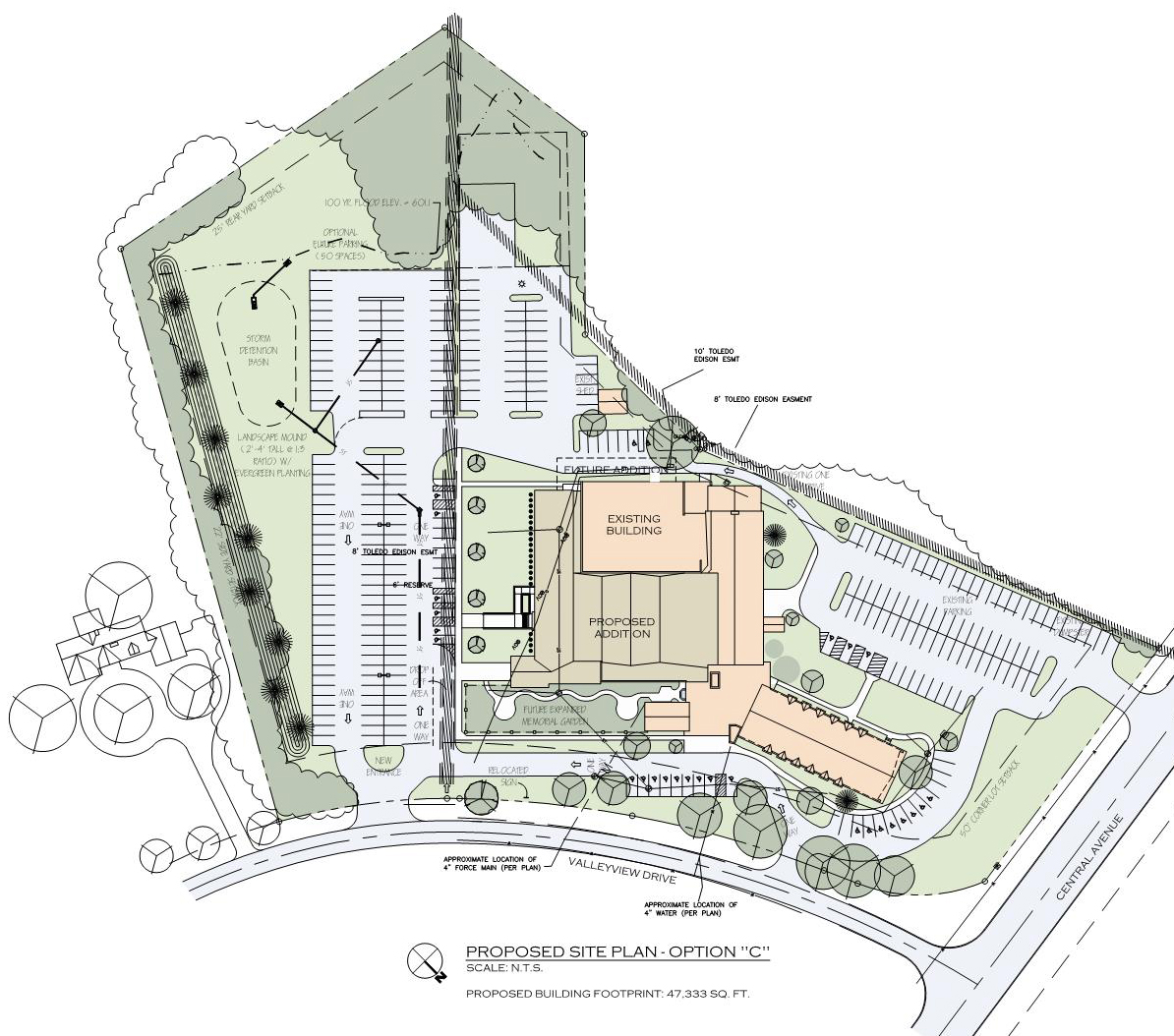 The Elevator:
A temporary wall will be built blocking the entire cloister hallway from the elevator to the Sanctuary. The elevator will only run from the 1st floor (Family Life Center floor) to the 2nd floor (Choir Room and children's Sunday school floor).
Those requiring elevator assistance:

Sanctuary Access: For persons requiring elevator assistance and need to access the Sanctuary, we would ask you to utilize the Valleyview doors, the side Sanctuary door or the lounge door for Sanctuary access. (You will NOT be able to access the Sanctuary using the elevators)
2nd floor Access: For persons requiring elevator assistance, please use the Central Avenue doors to gain access to the elevator.
The Parking Lot:
Where to park on Sunday:

Those with mobility concerns please use the following entrances:

Sanctuary side door (door #3) and Lounge door open on Sundays from Central Avenue parking lot
Valleyview doors from Valleyview drive spots

Please leave parking spaces closest to the building open for senior adults and those with mobility concerns. We greatly appreciate your act of kindness.
Please consider carpooling over the summer months

Our parking lot will be smaller than usual during construction. The new lot should be paved by Labor Day weekend.
Children & Student Ministries (S.W.A.T.):
ALL Children's Ministries, birth through grade 5, meet on the 2nd floor.

You can access the 2nd floor via the stairway by the Central Ave doors and the Sanctuary, or via the elevators from the 1st floor, or the FLC floor.
Once you arrive on the 2nd floor, a volunteer will be waiting to assist families on where to take their children.

ALL Student Ministries (S.W.A.T.) take place in the Family Life Center classrooms. These rooms are ONLY accessible via the Family Life Center main doors.
If you have questions the transition or building, please feel free to ask us using the form below!
The book of Ecclesiastes claims "there is a season for everything." This period of construction is short, especially in light of what lies on the other side: a new facility, more spacious, more accommodating, and well equipped for a congregation living into God's vision for the future which includes reaching younger families. Thank you for your grace and patience as we walk together into God's preferred future for Epworth Church.
Ask Us!
Available Files to Download
To download, right-click the file and select "Save link as".