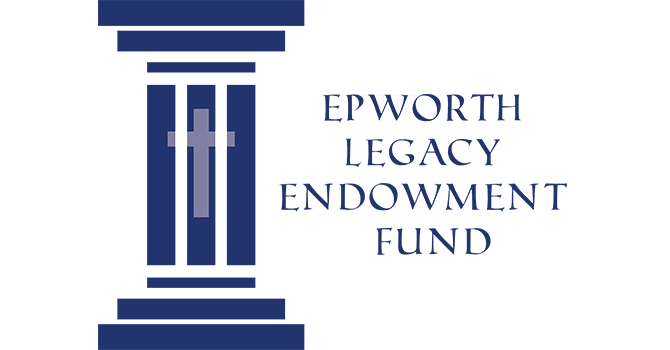 The Epworth Legacy Endowment Fund (formerly called the Epworth Foundation) was established in 1946 to hold and invest church funds intended for capital and operating support purposes and to encourage planned giving to the church.
The investment objective of the Legacy Fund is to pursue capital appreciation assuming a moderate amount of risk together with a reasonable amount of income. It is expected that the Legacy Fund will exist in perpetuity, with the objective of maintaining assets adequate to support authorized withdrawals and increasing the aggregate value to permit additional withdrawals.
The Legacy Fund is an entity within Epworth's governance, with nine trustees elected by the charge conference and five trustees serving ex officio. It is amenable to the Administrative Council. (It is not separately incorporated, as are some church endowments.)
Questions about the Epworth Legacy Endowment Fund may be addressed to the Epworth Treasurer or to the church business office.
What is Planned Giving?
Planned Giving through the Epworth Church Foundation is different from offerings and pledges, which supports daily operations and benevolences. Instead, Planned Giving focuses on the future, providing a gift from your estate or investments.
Planned Giving to Epworth United Methodist Church helps to ensure the continuation of ministries, the development of programs, and the improvement of church facilities.
Planned Giving is your opportunity to touch the future today.
Types of Planned Gifts
There are many ways to provide a planned gift to Epworth.
Bequests pass directly from your will or trust to the church. They can come in any form, from stocks to personal property to cash.
Charitable Gift Annuities pay the donor a guaranteed income for life and make a contribution to the church.
Life Insurance can be a convenient way to leave a gift by naming the church as a beneficiary of a policy.
There are several other types of trusts and other arrangements that can be used to carry out the donor's wishes, such as Pooled Income Funds and Charitable Lead Trusts.
What should I do first?
Contact the Planned Giving Committee or leave a message at the church office at 419-531-4236. A member of the Planned Giving Committee will be happy to discuss with you how you can help the church and its ministries for years to come.
You can designate your gift for a specific purpose, such as youth ministry, mission outreach, or building improvements. You can also choose to entrust your gift to the Epworth Foundation which will use the gift where and when the need arises.
Legacy gifts of any size or design are appreciated and will be utilized carefully for the growth of Epworth and its ministries.
The final decisions, however, are entirely up to you and your estate planning, legal, or financial advisor.
How large should a gift be?
Because you are working with your estate planner or financial advisor to create your legacy at Epworth, your gift will be comfortable for your lifestyle.
Planned gifts do not need to be extravagant, and they are not something reserved for the wealthy. Anyone can leave a gift to Epworth as part of his or her estate, regardless of its size.
Planned Giving through the Epworth Foundation
Please contact the church office at 419-531-4236 or [email protected]
To view a copy of the Planned Giving Brochure, click here.