This event has already occurred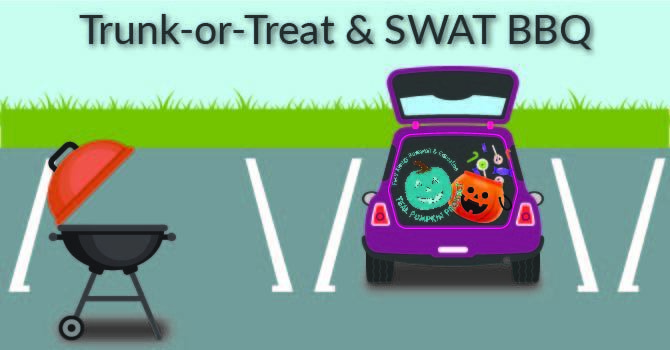 Save to your Calendar
Trunk or Treat:
Will go from 5-7pm and is FREE to the entire community! Be sure to wear your costumes and be ready to Trunk-or-Treat for candy.
Teal Pumpkin Project:
This year we will have a select number of trunks with non-food "treats" to include children with dietary and medical restrictions.
Bring a Decorated Trunk!
Sign up using the form below to let us know! We need dozens of trunks to make this event a success. Last year we had over 3000 visitors from our neighboring communities join us for this safe trick-or-treating alternative.
Help with Logistics!
We need boots on the ground! Below are areas you can help, we even have jobs that folks can sit in a chair for those with mobility concerns. If you can help, contact Mary using the form below.
Parking Directors: Trunks begin arriving at 3:30 we will need 2 people to direct them where to park. These persons should be here 3:00-4:30.
Parking Team: need 8-10 people to be here at 4-6:30 to help park the community as they arrive
Sign-up/Greeting: 4-6:30 These folks will sit at the registration tables and greet each guest, help them sign in, give them a treat bag. 3 people still needed
Thank you For Coming Team: 4:30-6:30 Pastor Doug could use 1 or 2 people to stand with him at the exit and thank guests for coming and hand them an invitation to return to Epworth
Interior Hospitality: 4:30-6:30 Folks may need to use the restrooms or want a tour of our beautiful church. These volunteers will sit right inside the central office doors and help with any interior needs during the event. At least 2 more people
* If you have a "We're Glad you are here" shirt, please plan to wear it to Trunk or Treat. We will have additional shirts here for those who don't yet have them.*
Can you Donate Candy?
If you can't attend the event but would still like to lend your support consider donating a few bags of candy. Candy donations of store bought, individually wrapped pieces of candy may be dropped off in the church office during regular business hours.
SWAT youth grilling
Will run during this event from 5-7:30pm. Epworth Grill Masters will offer hot dogs and hamburgers for $1.50 each or meals including chips and a beverage for $3. Come support our youth! Tickets will be sold at the door, cash and credit accepted. First come, first served.
Let Us Know You're Helping!
---