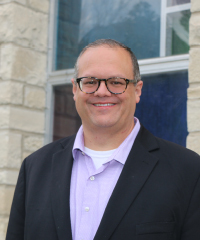 Pastor Doug Damron has been appointed as Epworth's Senior Pastor since the summer of 2014. He has served three congregations before beginning ministry in Toledo.He is a graduate of Kent State University, Asbury Theological Seminary and received his doctorate at United Theological Seminary in Dayton. The title of his dissertation is The Preacher as Court Jester: The Intentional Use of Sermonic Humor to Address Controversial Subjects.
Doug has served as a denominational leader locally and nationally. He has served as Chair of the Board of Ministry of Ordained Ministry of the West Ohio Conference. Pastor Doug currently chairs the conference's Transformative Discipleship Team which coordinates a variety of ministries ranging from new church starts, congregational revitalization, missions, camps, faith formation, the work of inclusion, etc. He also served as a clergy delegate to the UMC's General Conference from 2015-2019.
Doug is the father of two teenage sons. He enjoys reading, social golf, Cleveland sports, and above all, being Dad to Wes and Clay.